Our Logo
Adams Kearney Law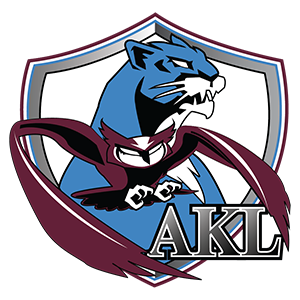 Brainstorming and designing the perfect logo for our firm was a collaborative effort between our firm and graphic artist, Eric Ayers.
The Adams Kearney Law Firm logo incorporates a lion and an owl stylized in front of a white shield. The lion and the owl represent some of our firm's core values. Our logo is intended to evoke feelings of strength and wisdom. The colors of the logo are also intentional. The lion is blue and the owl, wings expanded, is cherry red. These animals in these colors are intended to convey the firm's history and the pride in our foundation.
Dan Kearney, one of the two founding partners, attended Penn State Dickinson School of Law. Penn State Dickinson School of Law is one of the nation's most outstanding law schools and, as many already know, Penn State's mascot is the Nittany Lion. The Nittany Lion mascot was derived from the mountain lion that once roamed the hills of the Nittany Mountain, a prominent geographical feature located next to the university campus. The lion is known for its strength, cunning and leadership.
Our other founding partner, F. Kirk Adams, attended Temple University Beasley School of Law. National Law Journal ranks Temple Law as a top law school in their annual reports. Temple University's mascot is the Owl. Temple was the first school in the United States to adopt the owl as its symbol. The owl often represents wisdom, knowledge, and intuition.
Both animals are also associated with being courageous, perceptive and resourceful.
When discussions first began regarding designing a firm logo, the choice to include both a lion and an owl seemed obvious. They are the perfect symbols to communicate a message of strength and wisdom to our clients. We intend to represent our clients with wisdom and strength. The attorneys at Adams Kearney act as a zealous advocate and reliable counsel for each client. We take pride in providing personalized and exceptional service to each client no matter what legal issue they are facing.
We wanted to convey our message in an attractive, strong and vibrant logo. Our firm turned to Eric Ayers to help design our vision. Our law firm could not be more pleased with the design Eric created.  Eric appreciated that we wanted to be involved in the process. He listened to what we were trying to accomplish and offered terrific guidance.  Eric was a true pleasure to work with, making certain that our goal was accomplished and now we have a unique and recognized logo.
We thank Eric Ayers for his hard work and the fantastic design. If you are interested in learning more about Eric, below is a link to his website.